The new Procurement Ombudsman of Canada's four priorities
From the Office of Procurement Ombudsman
News Release
The new Procurement Ombudsman releases his first annual report
Ottawa, Ontario – October 3, 2018—The Federal Procurement Ombudsman Alexander Jeglic released his first Annual Report for the2017 to 2018 fiscal year, which was tabled Parliament by the Minister of Public Services and Procurement and Accessibility, the Honourable Carla Qualtrough, on October 3.
The report summarizes the Office of the Procurement Ombudsman's (OPO) activities from April 1, 2017 to March 31, 2018, identifies issues in federal procurement and outlines the most common feedback received from suppliers and federal officials.
Key issues highlighted in the report include:
the need to simplify the procurement process, for example, rules and regulations; resources required to respond to solicitations
the difficulty qualifying for, and using procurement tools such as standing offers and supply arrangements
The Procurement Ombudsman also highlighted the fact that the Office celebrated its 10th anniversary and that in the past decade, OPO responded to over 4,000 contacts, has completed 39 reviews of complaint, 19 procurement practice reviews of 30 federal organizations, and helped resolve disputes between federal official and suppliers in 31 cases.  
In addition, Mr. Jeglic detailed his mandate's four priorities:
Transparency: to make more information available to Canadians, such as the public release of supplier complaint reports
Simplification: to simplify all information and tools produced by his Office
Growth in dispute resolution services: to strongly promote OPO's Alternative Dispute Resolution services and obtain consent to participate in advance through contract language
Knowledge deepening and sharing: to perform deeper and more comprehensive analysis of procurement issues and help educate the procurement community on root causes of issues, and potential solutions
Quote
"As I begin my first year as the Procurement Ombudsman, I look forward to engaging with Canadian businesses and federal government officials to resolve issues and promote fairness, openness and transparency in the federal procurement process."
Procurement Ombudsman Alexander Jeglic
Office of Procurement Ombudsman
Follow us on Twitter @OPO_Canada
Quick facts
Office of the Procurement Ombudsman 2017-2018 Annual Report
Top 5 procurement-related issues:
Solicitation
Evaluation of bid
Evaluation and selection plan
Debriefing
Planning and strategy
Related products
Contacts
Gilles Pineau, Manager of Communications
Office of the Procurement Ombudsman (OPO)
Telephone: 613-947-9755
media@opo-boa.gc.ca
Backgrounder
Issues raised by both suppliers and federal officials

| Title | Issue |
| --- | --- |
| 1. Keeping it simple | The federal government needs to simplify its procurement processes. There are too many overlapping procurement rules, regulations, policies and trade agreements, which results in excessive time and effort to respond to a solicitation. |
| 2. Problematic procurement tools | Procurement tools, such as standing offers and supply arrangements, can sometimes be cumbersome to use and difficult to qualify for. These tools also seem to disproportionally favour suppliers located in the National Capital Region. |
| 3. Security clearances | Obtaining security clearance is a constant frustration. Examples includethe inability to transfer clearances between departments and the length of time it takes to get one. |
Issues raised by suppliers

| Title | Issue |
| --- | --- |
| 1. "Don't bite the hand that feeds you" | Suppliers are hesitant to raise their procurement-related concerns to federal organizations and oversight entities out of fear of being blacklisted from future contracting opportunities. |
| 2. Can't compete | Small businesses raised issues about national requirements and contract bundling. While having the potential to increase efficiencies and save the Crown money, they make it extremely difficult for small businesses to compete as a prime contractor. |
| 3. Difficulty with innovation | Suppliers noted that it is difficult to sell innovative products to the federal government as criteria are often too stringent, or it is too difficult to educate federal officials about their innovative product. |
| 4. Rigged solicitations | Suppliers alleged that specifications in Statements of Work seemed tailored for specific suppliers or are "rigged" to eliminate competition. |
| 5. Not worth the costs | Canadian small businesses reported that it is often "not worth it" to do business with the federal government due to the high costs of submitting bids in relation to the overall dollar value of the contract. |
| 6. Suppliers underbidding | Suppliers expressed frustration regarding competitors that purposely underbid to win contracts, just to raise prices afterwards through an amendment. |
| 7. Neglecting subcontractors | Subcontractors shared their frustration about how there is no one to turn to when they run into contract issues. |
Issues raised by federal officials

| Title | Issue |
| --- | --- |
| 1. Competing objectives | Procurement officers often get pushback from program managers, who see the procurement process as an obstacle that is preventing them from doing their job. |
| 2. Sole-source threshold too low | Federal organizations are allowed to direct a contract to a supplier for contracts of less than $25,000—an amount that has not increased since it was established in the 1980s, despite the loss of purchasing power over the years. |
| 3. Standardization not optimal | Federal officials have made some positive comments on the evolution of procurement tools, but generally speaking, the tools have not found the perfect balance between standardization and effectiveness. |
| 4. Not a community yet | Procurement officers have stated that the procurement community needs to be strengthened. Resource capacity is running low, training/certification is difficult to acquire or ineffective and expectations regarding procurement officers is inconsistent across federal organizations. |
| 5. Procurement training for everyone | Procurement officers voiced their opinion that more procurement training should be required for any public servant, regardless of role, who deals with any form of contracting. |
| 6. Poor project planning | Procurement officers stated that a challenge they face is when they are confronted with requests that require unnecessarily short turnaround times. |
| 7. Frustrations over furniture | Procurement officers have specifically pointed out how supply arrangements for the purchase of furniture can be particularly complicated and cumbersome to use. |
Profile of Contacts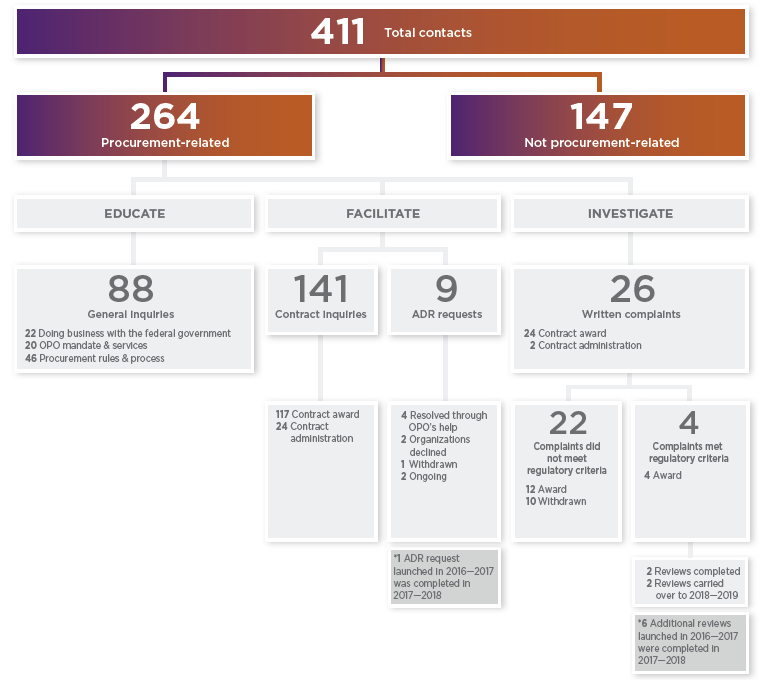 Description: Profile of Contacts - Total contacts

A flow chart showing that in the past year there were 411 total contacts:

264 Procurement-related
147 Not procurement-related

Under the educate pillar there were 88 contacts:

22 on doing business with the federal government
20 OPO mandate and services
46 procurement rules and process

Under the facilitate pillar there were 141 contract inquiries:

117 contract award
24 contract administration

9 Alternative dispute resolution (ADR) Requests:

4 resolved through OPO's help
2 organisations declined
1 withdrawn
2 ongoing (Note: ADR request launched in 2016 to 2017 was completed in 2017 to 2018)

Under the investigate pillar there were 26 written complaints:

24 contract award
2 contract administration

22 complaints did not meet regulatory criteria:

4 complaints met regulatory criteria:

4 award
2 reviews completed
2 reviews carried over to 2018 to 2019 (Note: 6 additional reviews launched in 2016 to 2017 were completed in 2017 to 2018)
Date modified: